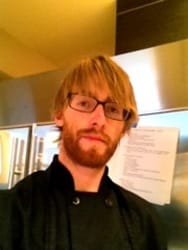 Alexander Russell Berger
Alexander, is the owner/operator of NOSH, NOURISH, REPEAT: Personal Chef & Nutritional Education Services. Working closely with individuals and families Alex, strives to provide the most delicious, nutrient dense and the most up to date, science based nutrition education possible. Nothing makes Alex happier than seeing his clients happy and healthy whether in the personal chef service, at a private dinner party, or while working one-on-one with Alex for nutrition education. Alex's approach to nutrition is based on Dr. Ed Bauman's Eating 4 Health model, which champions a plant-based diet that is complemented with organic pasture-raised animal products. The Eating 4 Health strategy is composed of seasonal, organic, local, and unprocessed foods, with an emphasis on including booster foods like herbs, spices, and sea vegetables. Alex also believes that ancestry can play a major role in determining a diet well suited for each persons unique bio-idividuality and that all health strategies should be as personalized as possible.
Alexander grew up in the health conscious community of Steamboat Springs, Colorado. He began cooking at restaurants at the age of 15 and after working in several different local restaurants for over five years, Alex was greatly discouraged by the food these establishments served. He was determined to find a cooking school that emphasized natural whole foods nutrition. In 2010, Alex attended Bauman College of Holistic Nutrition and Natural Culinary arts in Boulder, CO; a school at the forefront of holistic nutrition and health promoting & therapeutic culinary arts.
After receiving certifications in both culinary arts in 2011 and nutrition education in 2012, Alex returned to Steamboat Springs and began working on a local organic farm, Elkstone Farm. At Elkstone, Alex learned what it really takes to grow food, the true nature of sustainability, and the immensely important relationship between farmer and consumer that is missing from many of our lives. In addition to managing the kitchen at Elkstone Farm, Alex began spreading his love of food and nutrition through his services as a Personal Chef, specializing in rustic whole food cuisine, and as a Nutrition Educator, working with individuals and teaching free classes to develop personalized health strategies to overcome various conditions and meet life goals through nutrition and healthy living.
In December of 2012 Alex opened nosh, nourish, repeat, and has been serving the steamboat springs community ever since.
Which brings us to today, Thank you for your interest in my profile and please have a happy and healthy day,
Alexander Russell Berger
Specialties:Blood Sugar Regulation, Dairy Free, Detox and Cleanse Programs, Digestive Health, General Wellness, Immune Support, Raw Foods, Vegan, Weight Management
Languages Spoken:English
Services offered Remotely (e.g. phone, skype, etc.): Yes
23 dream island plaza
steamboat springs, CO 80477
(704) 458-0136
alexander@noshnourishrepeat.com