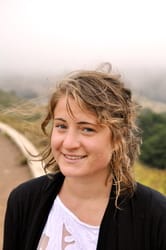 Amanda (Kodiak) Soled
The mission of Nourishing Hearth is simple: empower and heal people with food allergies and intolerances, mood disorders, and inflammatory diseases using a holistic approach of food, herbs, and alternative practices, in order to achieve a healthful, balanced life in a world that doesn't always have your wellness in mind.
From an early age, I have been passionate about embodying a healthy, natural lifestyle. However, after my own plights with food intolerances, gastrointestinal issues, and mood disorders, and navigating the fear induced maze of pharmaceuticals and allopathic doctors, some of my ideals got trampled along the way. I knew I had to start Nourishing Hearth to share my experiences and expertise that there is another way, and there is still hope of a vibrant life.
I graduated Bauman College's Natural Chef program in 2013 and founded Nourishing Hearth, a personal therapeutic chef service. I am also a potions apprentice at the renowned Shine Restaurant and Gathering Place, and entering into the Clinical Herbalist certification program through the Colorado School of Clinical Herbalism in Boulder, Colorado.
From catered events, to cooking lessonsand consultations, to weekly meals cooked in the privacy of your home, I use my expansive knowledge and unparalleled work ethic to help you get closer to a life full of vitality, wellness, and balance. Give me a tap so I can start supporting you and/or your loved ones with nourishing meals and holistic wellness today!
Specialties:Blood Sugar Regulation, Dairy Free, Digestive Health, General Wellness
Languages Spoken:English
Services offered Remotely (e.g. phone, skype, etc.): Yes
(513) 313-3294
nourishinghearth@gmail.com