Nutrition Consultant
The Nutrition Consultant Training Program provides students with in-depth knowledge of whole-foods nutrition as it contributes to the prevention of illness and the promotion of optimal health. Our uniquely tailored business curriculum, delivered through the Bauman Business Institute, is integrated into the program to make career dreams a reality. By the completion of the program, students are prepared to work as nutrition professionals and provide expert evaluation of and recommendations for diet, targeted nutrients, and lifestyle that will support their future clients to slow or reverse the progression of chronic illness and obtain optimal health.
Launch Your Nutrition Career Today!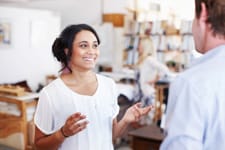 Through our Career Services, students are provided the necessary resources to choose and be successful on their career paths. With access to the Career Services Platform, students can search for jobs, view and sign up for events, and access articles, podcasts, videos, and other career-related resources. Bauman College continues to support students upon graduation with robust Alumni Support and Career Services so that alumni have the tools they need to achieve their career goals.
The science-based curriculum is presented in a variety of ways to appeal to diverse learning styles. The Nutrition Consultant Training Program is
comprised of:
TERM I – FOUNDATIONS OF NUTRITION
NC 101: Eating for Health®
NC 102: Digestive Physiology
NC 103: Biochemistry
NC 104: Nutrition Analysis
NC 105: Macronutrients
NC 106: Micronutrients
NC 107: Nutritional Counseling
Nutrition Careers Panel
NC 108: Case Presentations
Midterm Exam
TERM II – THERAPEUTIC NUTRITION
NC 201: Stress + Endocrine Interactions
NC 202: Men's + Women's Health
NC 203: Liver Detoxification
NC 204: Gastrointestinal Health
NC 205: Blood Sugar Regulation
NC 206: Weight Management
NC 207: Case Presentations
NC 208: Clinical Assessment
NC 209: Cardiovascular Health
NC 210: Mental Health
NC 211: Musculoskeletal Health + Sports Nutrition
NC 212: Immune + Autoimmune
NC 213: Cancer
Final Research Project
INTEGRATED BUSINESS MODULES
Preparing for Career Success
Putting your Education to Work
Personal Branding
Self Assessment + Exploration
Defining a Target Market + Developing a Specialty
Building Your Professional Identity
Social Media I: Building an Online Presence
Food Photography + Styling
Social Media II: Social Media Platforms
Social Media III: The Marketing Funnel
Organizing + Managing an Effective Job Search
Job Search Follow-up + Negotiations
Designing Group Programs
Delivering Group Programs
Starting a Practice
Writing a Business Plan
Managing a Successful Practice
Confidence + Competency
Ready for Business Portfolio